With Halloween tomorrow, the last minute preparations are bound to set you into overdrive, especially after a long week of
work, half term activities and Halloween excitement.
Always left to the last minute is the messiest Halloween necessity, the ever so sloppy, labour intensive,  Jack-O-Lantern.
Any way you slice it, carving such a large vegetable into a snaggletoothed ogre can be a bit of a challenge, especially
with youngsters.
This year, why not skip the monstrous mess and create a fun, stress free activity for you and the children by taking part in
'Pumpkin Decorating'. Depending on the age of your children, the items you use to decorate will vary. Below are some
pictures to inspire you….now all you have to do is get started with your children using your very best Halloween
imagination and natural creativity!
Spotty Pumpkin
WHAT YOU WILL NEED: Spray Paint (pre-spray paint base), Markers or Paint (to make spots or other shapes)
 Ribbon Pumpkin
WHAT YOU WILL NEED: Ribbon, Hot Glue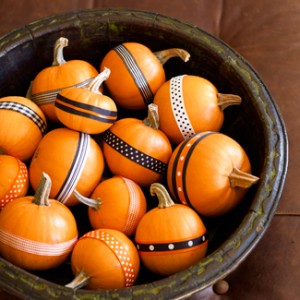 Witchy Cat Pumpkin
WHAT YOU WILL NEED: Construction Paper, Tape, Markers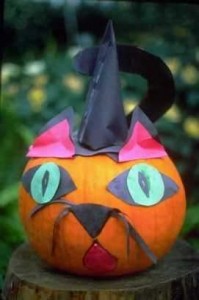 Blackboard Pumpkin
WHAT YOU WILL NEED: Blackboard Paint, Chalk