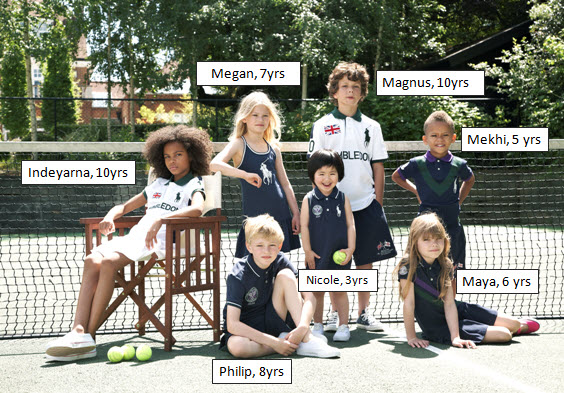 FAVOURITE SPORT?
Maya: Gymnastics and running
Philip: Football
Nicole: I like football!
Indeyarna: Swimming
Megan: Gymnastics!
FAVOURITE CARTOON CHARACTER?
Maya: I don't have any favourites!
Philip: Dennis the Menace
Nicole: I like all the Disney Princesses, they are my favourite
Indeyarna: Princess Tiana
Megan: I love Tracy beaker which is not a cartoon but I do like Charlie and Lola
FAVOURITE COLOUR?
Maya: Sky Blue
Philip: Lime Green
Nicole: Pink Sparkles
Indeyarna: Gold
Megan: I have two favourite colours, Pink and Red!
FAVOURITE MEAL?
Maya: Chicken noodle soup
Philip: Steak and Chips
Nicole: Mummy's Scooby Doo pasta
Indeyarna: Spaghetti bolognaise
Megan: Hot and spicy chicken curry that Dad makes with naan bread
FAVOURITE TOY?
Maya: Jackie, my soft toy leopard
Philip: My guitar if it counts as a toy! Otherwise it would be playmobile!
Nicole: the Dumbo that daddy got for me
Indeyarna: My DSI!
Megan: My baby born and pram
FAVOURITE FALVOUR OF ICECREAM?
Maya: I don't like icecream!
Philip: For sure it would be chocolate!
Nicole: Chocolate yeah!
Indeyarna: Lemon is the best
Megan: I don't like icecream either!
BEST THING ABOUT TODAY?
Maya: Playing with the dog!
Philip: Trying to catch tadpoles and playing with the dog!
Nicole: Taking pictures with happy and friendly 'Big Friends' (crew members & AlexandAlexa.com team)
Indeyarna: Meeting everyone who was here!
Megan: I loved the house, the garden, making new friends and playing with the lovely dog