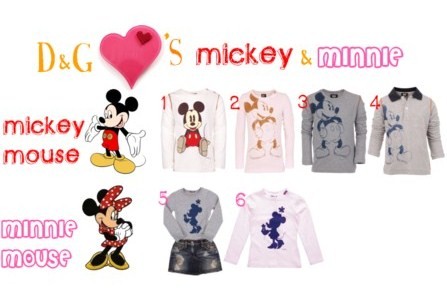 If there is one thing that never goes out of style, it is Minnie and Micky mouse. The anthropomorphic mice have evolved over the past 80(ish) years from characters in animated cartoons and comic strips, to some of the most recognizable symbols in the world.
As the childhood friends of numerous generations, Micky and Minnie found themselves a place in the world of fashion ages ago, and their frequent re visits to fashion since seems obvious: with each new generation comes a new set of Mickey and Minnie mouse fans…who wouldn't want to sport kit with those friendly faces, regardless of their age.
Over the years, Mickey and Minnie have found themselves on various articles of clothing as ambassaders to numerous brands, but none as big as D&G Junior, who gave the mouse-y pair huge credibility in the fashion world by using them as the ambasidors of their Autumn Winter 2010 collection for boys, girls and babies.
Like with all trends, there is bound to be debate. But for little ones, Mickey and Minnie, trend or not, are a perfect fit, no matter which way fashion goes, they are here to stay.
1. D&G JUNIOR, Cream Mickey Mouse Tee, £62.00
2. D&G JUNIOR, Baby Pink Mickey Mouse Tee, £79.00
3. D&G JUNIOR, Grey Mickey Mouse Tee, £74.00
4. D&G JUNIOR Mickey Mouse Print Polo £79.30
5. D&G JUNIOR Mini Mouse Denim Dress, £185.00
6. D&G JUNIOR Minnie Mouse Pink Tee, £70.00