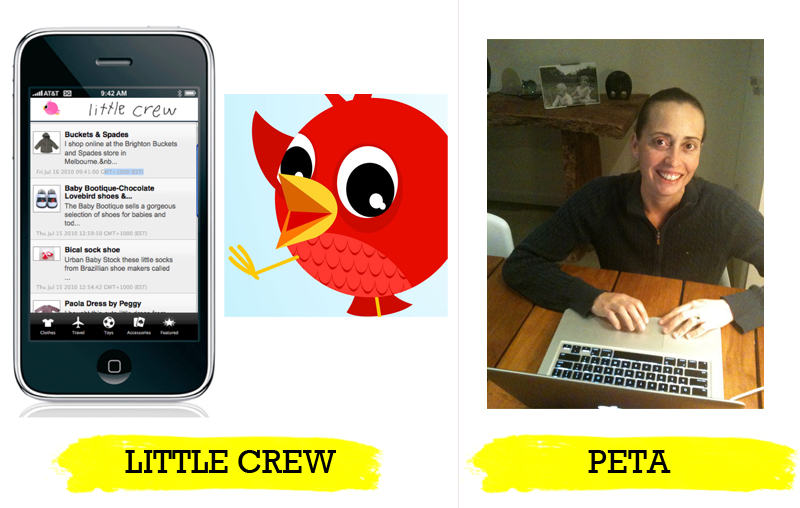 This is the first time we have ever reviewed an iPhone app, as we have been doing our best to remain tech free on theirlittleworld; however, when our P.R gal, Anna, came across this unique app, we had to share it with those of you that love to shop, especially those of you that love to shop online.
The app, called Little Crew, offers daily reviews and updates straight to your phone.
Australian mum Peta, the managing director and developer of the Little Crew app, writes these reviews on items she purchases for her three children, the reviews are based on the customer service that comes along with the product, the quality of the product that arrives and a short story of why the item was purchased and who for.
Peta created the app to make shopping online easier for parents, "We developed the app to create an umbrella for all of the online shops that sell luxury kidswear. The app is something that parents can easily use, trust and rely on, to give them information about kids' products sold online, as well as the shops that they come from."
Each article is short and sweet and written in a way that makes the review feel like more like a chat with a friend over coffee, than a tyrpical product review. It is honest feedback, from one parent to another.
We were thrilled to have Little Crew review some of the alexandalexa.com stock, which included reviews on a Juicy Couture Track Suit, Little Marc Jacobs' Tee Shirt , Cacharel Dress, Torres Dress, Ed Hardy Tee Shirt, Vilebrequin Swim Shorts and Simple Kids Brand Review.
To purchase the app, read some of Peta's reviews, or suggest a product for her to try, visit the Little Crew website at: www.littlecrew.net – BUT for a limited time only, the Little Crew Review App is FREE! So sign up now!