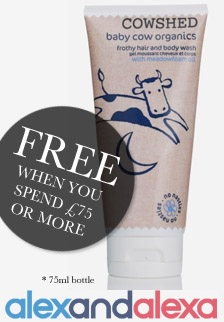 To kick off the Black Friday Shopping frenzy, and to celebrate the start of the Holiday Shopping season, www.AlexandAlexa.com has teamed up with Cowshed, just in time to make your holiday shopping experience even more enticing! For ever purchase over £75, AlexandAlexa.com customers will receive a FREE COWSHED GIFT from their Baby Cow Organics line.
Cowshed, which creates an amazing range of natural and therapeutic products for everyone from babies to grandparents, uses the best organic and wild crafted plan extracts to create unique and thoughtful products, made right here in England.
The FREE gift, COWSHED frothy hair and body wash, is a gentle wash for little ones  made with essential oils of bergamot, sweet orange, lavender and is perfect for children of all ages.
Free gift is the 75ml bottle of Baby Cow Organics Frothy Hair and Body Wash by Cowshed and is subject to availability. Promotion commences on 26/11/201 and will run until stocks last. Please note that only one gift will be issued per customer.