One of our all time favourite blogs here at AlexandAlexa.com is blog Babyccino Kids. Written by three friends scattered across Europe (London, Paris, and Amsterdam), they offer an interesting international perspective on modern family life.
We were lucky enough to have one of the three ladies, Esther van de Paal (who lives in Amsterdame with her husband and three children), do a guest post for us, choosing her favourite pieces for girls, boys and babies.
BOY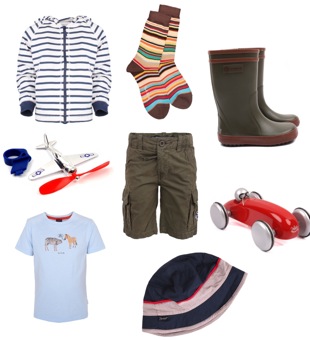 I just love the combination of wellies, shorts and a fisherman's hat on every little boy. It's just so classic, and playful and adventurous at the same time! Of course the shorts need pockets — where else should all those little treasures, that boys are always gathering, be kept? The striped Petit Bateau hoodie belong's in every boy's wardrobe — again, it's so classic, but oh so trendy this summer! And how fun is the T-shirt, where the colourful zebra ask the black and white zebra: "new socks?" (He's wearing the same colourful, stripy socks as I featured in this look!!). My own son would go crazy over that airplane toy — you can attach it to a bike so it flies with you. So cool!!
AEROPLANE: Vilac aeroplane bicycle accessory, £6.00
CAR: Vilac red speedster collectors' car, £46.50
T-SHIRT: Paul Smith Junior blue zebra tee, £33.00
SOCKS: Paul Smith Junior multi-coloured striped socks, £16.00
SHORTS: D&G Junior khaki green safari shorts, £126.00
WELLIES: Aigle khaki wellington boots, £24.00
HAT: Sterntaler navy and red fisherman hat, £12.00
GIRL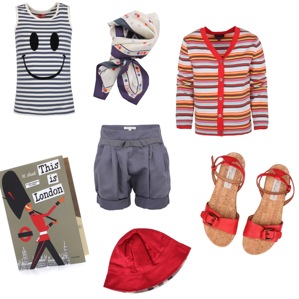 This look is so cool, it's classy and retro, but hip and trendy at the same time. I'm loving the clogs I see everywhere this summer; especially combined with cute shorts like these! The stripy tank is so fun, and it ads innocence to the look. I think it works well combined with the colourful cardigan! The Sasek books are a favourite in our house, and especially the 'This is London' one (our two oldest children were born in London).
TANK: No Added Sugar navy and vanilla stripe smiler tank, £23.00
SCARF: Dior inkblue silk polkadot scarf, £49.95
CARDIGAN: Paul Smith Junior multi-coloured starlette stripe cardigan, £74.00
SANDALS: Stella McCartney red linda cork sandals, £90.00
SHORTS: Chloe charcoal shorts with bow, £65.00
HAT: Burberry red hat with nova check lining, £30.00
BABY GIRL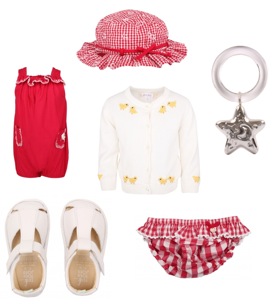 So cute, that red bubbly romper. Any little baby girl will look effortlessly adorable in it, and how cute is it combined with those tiny sandals? Just add a frilly checked sunhat and a cute cardigan for when it gets chilly (how adorable are the ducks???) and voila. All set. Our baby Ava has a similar silver rattle and it has been a favourite toy since she was born. Such a lovely gift, and surely a keepsake for the rest of her life! (I still have my own silver baby rattle.)
SUNHAT: Sterntaler red gingham frill summer hat, £14.00
ROMPER: Tartine Et Chocolat Red Bloomer Style Romper, £56.00
SANDALS: Tip Toey Joey white parky sandals, £33.00
CARDIGAN: Rachel Riley cream cardigan with embroidered chicks, £69.00
RATTLE: Noel Collet sterling silver 'etoile' rattle, £56.00
BIKINI BOTTOMS: Tartine Et Chocolat red and white check bikini bottoms, £33.00
BABY BOY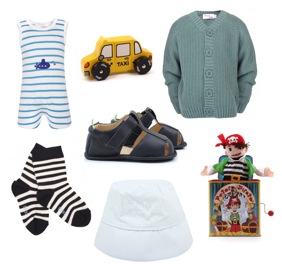 Loving the stripes here, and how cute is the fact that Jack (in the box) is featuring them too? The little playsuit is adorable, it will show that little baby belly sticking out, which I always love. The cardigan ads a bolder element to the selection — I'm loving the chunky knit and grandfather style. Sweet. And those magnetic Vilac cars are great, they come apart in three parts, and are easily clicked together again. (So they can conveniently start practising how to fix cars at a very early age.)
ROMPER: Petit Bateau white and blue striped submarine romper suit, £13.00
CARDIGAN: Bonnie Baby kelp thick knit cardigan, £31.00
SOCKS: Falke navy and off white striped socks, £4.00
SANDALS: Tip Toey Joey navy blue parky sandals, £33.00
HAT: Timberland Kids baby blue fisherman hat, £18.00
JACK IN A BOX: Vilac peter pirate jack in a box, £23.50
TAXI: Vilac magnetic car set, £16.50
- Words and Images by Esther of http://babyccinokids.com/ -