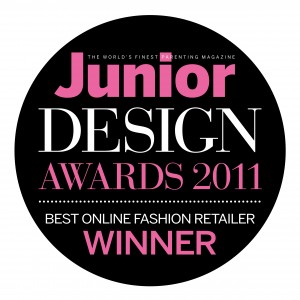 Think Oscars, Grammy and BAFTA awards… in the kids' world the Junior Design Awards by nonetheless than Junior Magazine is the achievement of the year for kids' brands and retailers.
And the winner for Best Online Fashion Retailer goes to… (drums rolling please)
AlexandAlexa.com!
The Junior Design Awards for 2011 – 'the only awards that recognise style and excellence in style & design – and everything in a child's life' – picked the best of 2011 in 7 categories across the kids' universe: Fashion, Lifestyle, Interiors, Travel, Food, Toys and Books.
The team at AlexandAlexa.com is so proud and excited for this astonishing achievement, but our excitement does not end here… some of our favourite brands are also well deserved winners:
Junior Gaultier was awarded Best Designer Girl's Fashion.
Paul Smith Junior has taken the lead on Best Designer Boy's Fashion.
Bonnie Baby is the favourite for the little ones and won Best Designer Baby Fashion.
The panel of 12 judges, which included singer Sophie Ellis-Bextor, designer Elspeth Gibson and creative director Fredrik Ahlin had a hard task at hand and only two days to reach a final decision, we would like to thank them for picking AlexandAlexa.com.
A big thank you to Junior Magazine for our award, we are getting ready to snatch the award again next year… just keep an eye on this space for next season's sneaky previews…