If you are not already tired out from half term activities, don't forget that it is Halloween on Saturday 31st November and if you're looking for something spooky and exciting to do with the kids, then why not try out Phobophobia at the London Bridge Exhibition on Friday 30th and Saturday 31st October (7pm-2am)? The evening is quite spine-tingling so younger children may not enjoy it as much as older ones.
For the tiny tots, try the London Canal Museum's boat trip or the Witch Trick or Treat at the London Eye will be running activities and trips throughout the half-term week for children. It costs only £6 for under 4s.
At London Zoo there will be various activities running throughout the half term week as part of their Animal Adventureaaargh!, a makeover of their Animal Adventure exhibit. Children will be able to listen to stories, carve pumpkins and even go on explorations in the dark!
The National Maritime Museum is holding a Haunted House Family Fun Day for all ages on Saturday 31st. A family ticket costs £15 but you must book in advance (see website). The best costumes will win prizes and everyone can join in and learn the dance to Michael Jackson's "Thriller", make ghoul masks and find some ghosts who will tell you a little history about Queen's House!
However, if you would rather stay at home and have a little Halloween party, then have you tried out our Halloween cupcake recipe? It's a great activity that the kids can get involved in and that is enjoyable for the whole family! Why not have a competition to see who can decorate their cakes in the scariest way?
In terms of party games, why not try apple bobbing? The original and still the best, apple bobbing is fun, cheap to set up and easy to tidy up if you have a wipe-clean floor, as water can go everywhere! You'll need a couple of buckets filled with water and a few apples in each. Split children into teams and see which team can remove all of their apples from the water first! But there's a catch: They can only use their teeth to pick the fruit up! Trick or Treat is also an option, but better if you know your neighbours and live in a family area. Also, if you want your kids to get creative, you could provide various materials for them to make scary masks or they even whole costumes! For example, see who can turn their friends into mummies the quickest by wrapping their friends up in toilet paper!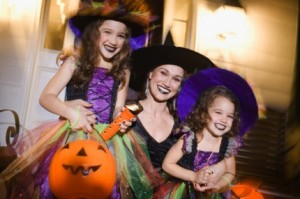 Whatever you decide to do, have fun with it and let us know what you get up to! Email [email protected] with your tales or leave a comment on this blog.