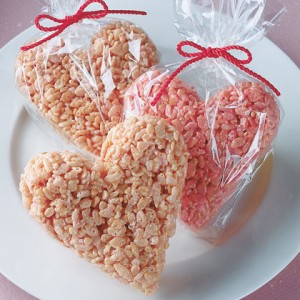 Easy baking ides are great for kids and Rice Krispies squares are easy to change for any holiday need, this recipe
is a great Valentines treat to make with the kids and can double as personal valentines for your kids friends and teachers!
What You Will Need
Cooking spray
3 tablespoons margarine
6 cups mini (or 60 regular-size) marshmallows
Red food colouring
9 cups Rice Krispies cereal
Heart-shaped cookie cutter
Plastic bags, yarn
What To Do
Let the kids coat a baking sheet with cooking spray then set  it aside
Melt the margarine in a large pot over low heat.
Let the kids carefully place the marshmallows in as you stir, you can count with them as they do it, counting each marshmallow they place in the pot. (Make sure you explain to them about splashing or the baking fun will turn into hot margarine on your top!)
Stir the marshmallow and margarine continuously until they melt.
Remove the pan from the heat and let the kids put drops of red food colouring into the mixture while you stir, until you reach your desired colour.
Let the children add the Rice Krispies into the mixture while you stir and continue stirring until they are evenly coated with marshmallow.
Spoon the mixture onto the baking sheet.
With waxed paper (or lightly buttered hands), smooth out the mixture, spreading it to an even thickness.
Let the kids cut out hearts with the cookie cutter.
Have the kids place each heart in a plastic bag while you tie a yarn bow
Place in the fridge until you are ready to give them out!