9:30 A.M: Our lovely buyer Vanessa and I arrive at Angel station, stop at Starbucks for some Soy Chai Lattes and find our way to the Bubble tradeshow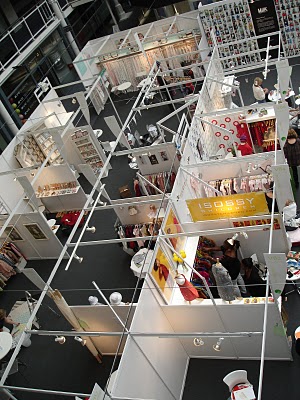 09:45 A.M: We take a look around at all the cute booths filled with even cuter clothing and accessories and have a quick chat with some perspective new designers then we head to our first appointment with quirky London kidswear brand No Added Sugar and have some fun choosing our favourites from their lovely fun collection.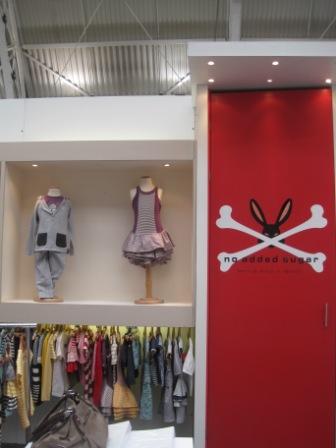 10:55 A.M: Having spent a bit too much time at the No Added Sugar booth, we rush over to the Bonnie Baby booth and immediately fall in love with their new collection, some of their baby gift offerings come in little Bonnie Baby milk cartons and it takes us no time at all to choose our favourites with the help of Bonnie Baby's Clare. We leave feeling confident in our colour filled choices for baby boys and girls, time for our next appointment!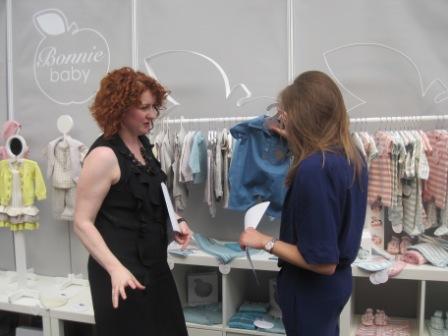 1

1:12 A.M: We head over to one of our favourites, Rachel Riley, and find Rachel Riley herself smiling big and looking pretty as can be in a cream and green vintage dress. tucked in amongst the lovely vintage inspired fabrics  of her line.
We quickly zone in on her new collection of pyjamas, loving the vintage inspired fabrics of her line then move onto her kiddie perfect swimwear (where we decide her new sailboat print is the cream of the crop) then finally onto girls and baby dresses where we ooh and aww at the fantastic tailoring and fine needlework we admire so much.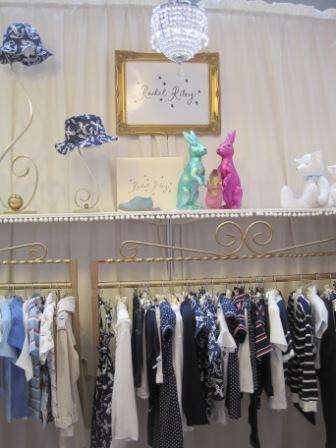 13:05 P.M: With our tummies rumbling, Vanessa and I head outside to enjoy a bit of the nice summer day. About half way between Bubble and Angel tube station, we find a vibrant little walk in Mexican restaurant called Chilango and tuck into two HUGE Grilled Chicken Burritos. The service is so fast and the food is so good we finish it almost as fast as we ordered it. We sit and enjoy the sun on their colourful outdoor patio and talk excitedly about the orders we have made so far, before heading back to Bubble for our next appointment.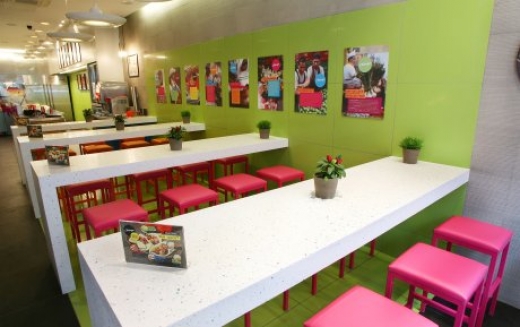 14:30 P.M:  Calvin Klien underwear for kids is our next stop and we pick all the classic basics and some fun ones too for boys, girls and babies.
15:20 P.M: We head over to a booth where our Australian friend, Richie, creator of Munster Kids is stationed, looking very tanned indeed. We browse his new collection and find a ton of tees and shorts for boys and even some items for girls.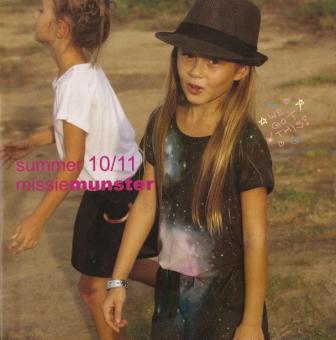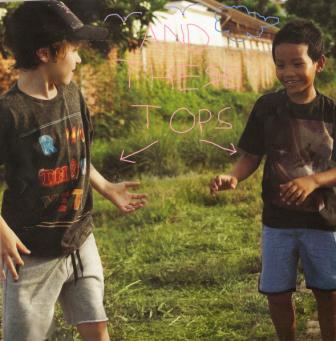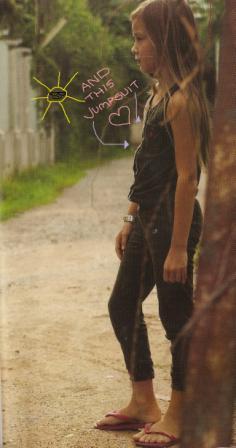 Richie and Munster agent Alister also tell ys about Munster's T4T initiative which helps supply clothes to orphanages throughout Vietnam and Cambodia. We find out that each season, Munster commissions an artist to design a series of prints for tees and for every commissioned t-shirt sold, they give another to a child in need. We buy their T4T SS11 shirt, and grab a catalogue of their new line to scan in later and give our readers a sneak peak!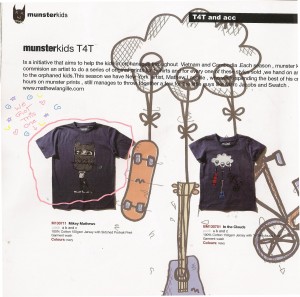 16:40 P.M: Last but not least, we go to see Torres, where Spanish designer Javier and rep Alexandra offer us chocolates while we browse through their gorgeous SS11. We find some great pieces for girly girls and a few big sister-little sister sets, all made in different shapes and created with an array of fabrics…the choices leave us with far too many favourites to mention!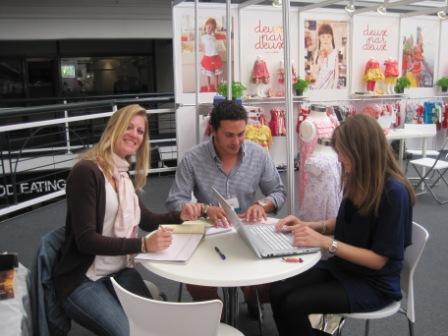 17:52 P.M: With our day complete, we head back to the Alexandalexa.com office to show our colleagues the great purchases we made while we get organized for Thursday when we will fly to Florence for our final buying trip to Petit Bimbo tradeshow!
TRENDS FOR SS11 FROM BUBBLE: The futuristic colour wheel of kids fashion seems to say that Spring Summer 2011 will be full of classic summer pastels as well as deeper colours like fuchsia pink, bright yellow, teal, rose pink
Let us know what you think of the SS11 sneak peeks and if there are any brands you think we are missing!
x  Holly & Vanessa