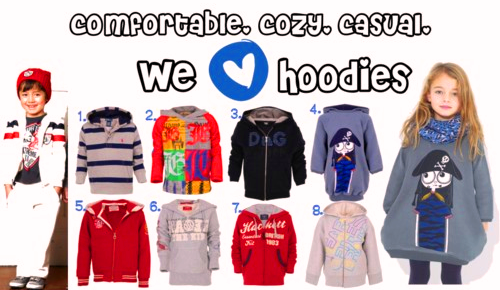 The hood is a marvelous invention, perfect for keeping off the rain, protecting our little ears, and creating one of the most popular items of the modern wardrobe, The Hoodie.
The Hoodie is an item we all own, and an object of our wardrobe that encompasses all of our favorite adjectives: comfortable, cozy and casual.
The garment first came into play in the Middle Ages as part of Catholic monk's tunics, which had long decorative hoods or 'cowls'; however, the history of the specific style we wear today began in the 1930s, produced by the brand Champion, for workers cold storage warehouses.
The popularity of Champion's design spread quickly and sportswear designers began to develop entire collections based around the clothing item. By the 1970s, the hoodie was a clothing classic, perfect for sports, camping, chilling, studying, layering, styling and so on…
In countries where children need not wear a uniform, it is the perfect back to school wardrobe piece, and for kids that do wear uniforms, it is a great cover-up on a cold fall day, so, in celebration of the back to school season (which is creeping up far to quickly) we picked out 8 of our favourite hoodies for your children from the world's best kidswear designers:
1. D&G JUNIOR blue hooded zip-up jumper, £102.00
2. JOHN PAUL GALLIANO newspaper print hoodie, £72.00
3. RALPH LAUREN grey and navy striped hooded jumper, £82.00
4. LITTLE MARC JACOBS miss marc Jacobs jumper dress, £90.50
5. HACKETT red hooded jumper, £66.00
6. RARE THE KID grey hooded sweat top, £96.00
7. JUICY COUTURE regal blue velour tracksuit, £124.95 (only tracksuit top pictured here!)
8. DIESEL grey jumper with coloured print, £46.00
If your children love hoodies as much as we do, send us picture to [email protected] and we will post the picture of your hooded cutie on the Their Little Wardrobe section of our blog!