HOW WE FOUND THEM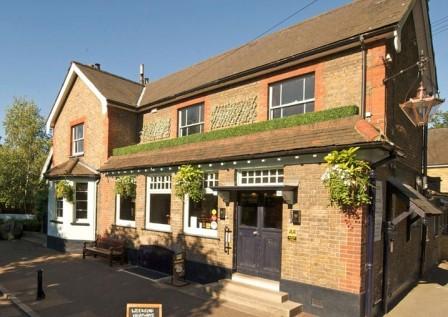 We have many mini-critics in and around London, and a set of our mini-critics had just moved to Barnes from Kent and their cousin, happens to now work at Alexandalexa.com…as a blogger.
Having taken a weekend off to spend time with them while their parents were away, this Alexandalexa.com team member thought it best they escape the family garden and go out for a meal, and after asking a neighbour where the closest family friendly restaurant was, we wound up at the beautiful Victoria Pub on 10 West Temple Sheen in London's SW14 7RT postal code.
FIRST IMPRESSIONS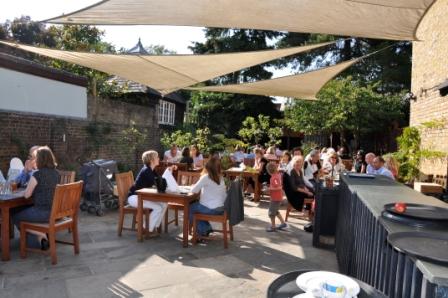 On a hot summer day, walking into the cool bar The Victoria pub instantly refreshes you, it is quiet, and the lighting is non intrusive. The beautiful dark wood floors, leather seating and vintage looking wooden furniture is inviting, and if it wasn't such a lovely day, I would be inclined to spend my day indoors; it is the perfect location for a relaxed romantic meal. But, I arrived with three of our mini critics, Lily (5), Scarlett (7) and Milo (1.5) who kindly agreed to help me with our undercover review.
After cooling off and ordering some (delicious) fruit smoothies from the smiling and friendly young gentleman at the bar, we ventured towards the great outdoors, through the beautiful timber framed conservatory and out to the stunning garden. We found seating in the shade of a tree, right next to the Pub's impressive climbing frame.  
The kids seemed content with enjoying their smoothies and we were quickly greeted by our charming waitress who handed us each menus.
THE FOOD
The adult menu, created by award winning chef Paul Merrett and his team, had some traditional family favourites as well as some more eclectic cooking for those that like to venture into the great unknown.
The kids menu includes favourites of kids everywhere, like fish and chips, pita bread toasties, pasta, burgers, organic ice-cream and fresh fruit salad. But what the kids were most impressed about was that the menu is illustrated by 'menu consultant' Ellie Merrett (aged 11 ¾) and as mini critic Scarlett (age 7) is a budding artist herself, she branded the Pub the "coolest" before we had even ordered our food.
I found out after, that the menu is also incredibly environmentally friendly as The Victoria Pub only sources food from ethical suppliers:
BREAD: Baked in house with milled from Leicestershire.
MEAT & POULTRY: Comes from several farmers and small family butchers, including beef breed in South Devon, organic veal from Oxfordshire, and pork from Colchester.
FISH & SHELLFISH: Purchased from two harbour side markets in Brixham and Falmouth, and some of the fish they use, like their bass, is line caught and comes from sustainable stocks.
FRUIT & VEGETABLES: From a family run farm in Surrey.
COOKING OIL:  Is stored and recycled into bio fuel by a local company.
OUR MEALS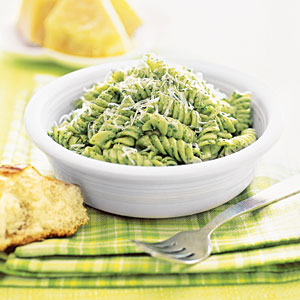 Lilly and Scarlett were both keen on the Pita Bread Toasties and Milo, being a bit less adventurous went for Pasta & Pesto. I ordered the Whole Char Grilled Sea Bass with a Salad of Green Beans, Black Olives, Cherry Tomatoes & Salsa Verde. As I finished saying the order, the kids snuck away from the table, having finished their smoothies, to check out the climbing structure.
THE CLIMBING STRUCTURE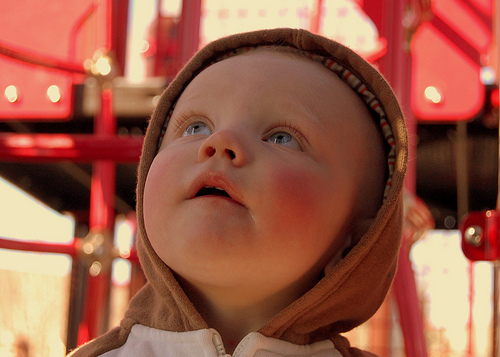 As mini critic Milo was not quite old enough to 'explore' on his own, so I 'escorted' him to the play area which he independently investigated under my watchful eye. The girls climbed and screamed with some of the other children, while Milo took a wander around. He lost interest in the climbing structure after spotting a baby girl's brightly coloured bonnet…..and started poking her in the head, which then turned into a game of peek-a-boo. The baby reacted to with giddy surprise and the other parents and minders in the area ooh-ed and aww-ed at how sweet they were.
Milo's game was interrupted by our food arriving, which happened so fast, the mini-critics never even bothered to bicker or tease with one another, or the other children (horah!).
THE VERDICT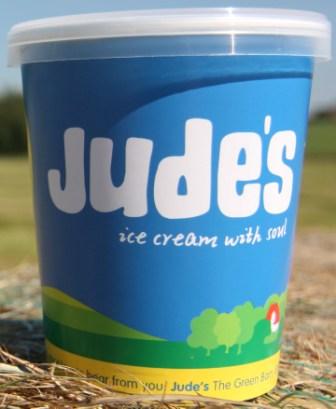 The mini critics and I gobbled down our food, enjoying each bite, and everyone, including the youngest mini critic (who is rather picky with his food), fully enjoyed their meals. For pudding, we all ordered Jude's Organic Ice-Cream in all four of the flavours available and shared. It was AMAZING.
Afterwards, the two older critics announced their verdict: 5/5 for The Victoria Pub and with their duties complete ran off to the climbing structure, where they played happily for a full hour.
PROMOTION FOR YOU
For all you fantastic readers, The Victoria Pub would like to offer your kids a delicious smoothie at half price this summer. Just quote "Their Little World Summer" when ordering your smoothie! (valid until September 1, 2010)