With Fendi launching their children's collection at Pitti Bimno in July 2010, their much anticipated FIRST EVER Autumn Winter catwalk was pretty much perfect.
As expected, almost all of the clothing was adorned with the now famous Fendi FF logo ornamented on extra long scarves, hats, boots, rainwear and even elbow patches, and the stylish mini models looked confidant and comfortable in their practical yet fashionable catwalk wardrobe.
The show began with le Fille Fendi  in a wash of greys, browns, plums and reds wearing posh peacoats, capes, extra long cardigans, furry boots with hats, scarves, teddy bears and dolls to accessories. These looks were soon followed by girls in pastel pinks chiffon dresses with subtle Fendi prints worked into relatively classic A-line dresses.
The boys looked almost classically English in herringbone and hound's tooth jackets, oversized blazers, soft turtle neck sweaters and smart shoes. This was followed by a more winter friendly casual look with layered chunky knits that were accessorized with furry aviator hats and oversized scarves.
Our favourite model of the day was a two-year-old boy wearing dress trousers and a smart white shirt who strut down the runway with his arms at his chest grinning – upon his entry to the runway a series of 'awwws' came from the audience and near his completion of his walk he gave the runway a second go grinning and giggling down a second time and effectively melting the audiences heart.
To end the show, five girls came on stage, each with a letter to spell FENDI. The F and the I then left the group, leaving the letters END to signify the finally to the lovely show.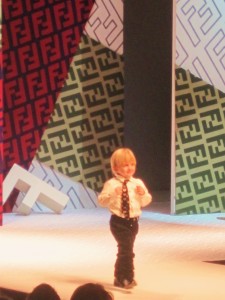 the little boy who double walked (cute)!