Our first fashion show for Pitti Bimbo was Monnalisa, who presented their collection by holding a cocktail party followed by a charming catwalk show.
The show began with Monnalisa's most recent addition, a boyswear collection titled 'hitchhicker', which featured an array of winter warming pieces styled casually, with loads of layers, rolled up jeans and a familiar spinach eating hero from the 1920s, who we all know as Popeye (the sailor man).
For girls, the lovely layering continued, and an array of genres were apparent, most pointedly, the nifty fifties which were represented with over the knee skirts supported by petticoats.
Alongside the fifties vibe were oversized Yeti snowboots, modern leopard prints and a new selection of Monnalisa 'characters' which included Popeye's lady friend, Olive Oyl and Disney's Italian belle, Clarabelle Cow.
The skirt of the season however was a longer more luxurious version of the MONNALISA Navy Polka Dot Skirt they created for AW10, but this one was designed by the Monnalisa founder's 13-year-grandughter and was given a series special moment on the catwalk.
Here are our favourite pictures from the show: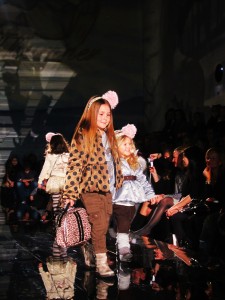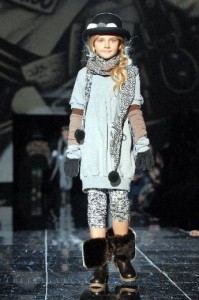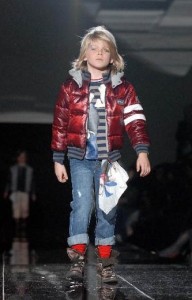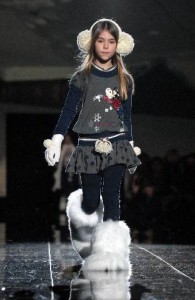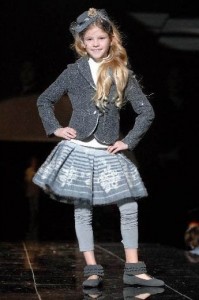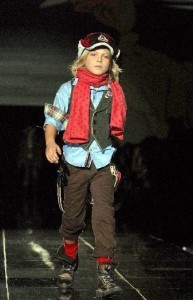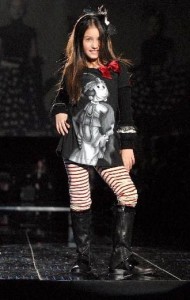 see more pictures of the GIRLS catwalk here / see more pictures of the BOYS catwalk here
Catwalk Clip: Monnalisa AW11 Skirt of the Season