Normally, we wouldn't recommend you take your child to view a skull of any kind, but after visiting Florence for Pitti Bimbo and stumbling across Damien Hirst's exhibition For the Love of God, we have decided it just might be an exhibition for all ages.
For the Love of God has only been shown twice before Florence, once at White Cube in London (2007) and then the Rijks museum in Amsterdam (2008).
It is not every day you (or your children) get to view a skull encrusted with 8,601 diamonds, totalling 1,106.18 carats, valued at over S80,000,000 – it is quite breathtaking and beautiful – and with the imagination of a child, the who, where, what, when and why(s) of the art piece result in creative interpretation as they use their imagination to make sense of this luxury halloween-esque creation.
When we entered the small velvet room ourselves, a girl of about 5 was in the midst of asking her mum a string of questions about the jewelled skull – when she stopped for a breath, her mother asked her what she thought the answers to her questions were. After a brief pause and some intense concentration, the 5-year-old began answering her own questions, launching into a story of her own of how this piece of art came to be, her rendition involved a mermaid named Abriella, a whale named Nonos and a pirate named Jimmy (essentially, Jimmy stole the diamond skull from Abriella and Nonos saved it and brought it here to Italy to be kept safe in Palazzo Vecchio/"this place").
Our run in with the 5-year-old story teller proved that even 'adult' art, if made interesting to a child, can proving that art of this nature can provide children with inspiration for their creativity and imagination.
For The Love Of God will be at Florence's Palazzo Vecchio until 1 May, 2011.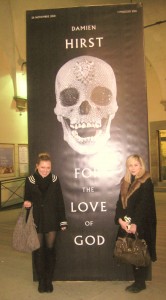 two alexandalexa.com team members at the exhibition entrance in Florence!