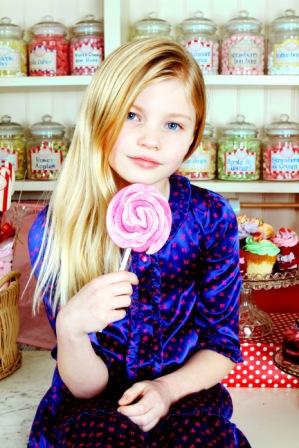 Today's mini-model post goes out to our little candy shop trooper, Eloise Stevens. It was half term when we did our Candy Shop Shoot and the gorgeous 8-year-old mini model was not feeling her greatest.
The little one had a bit of a cold, but didn't complain once, giving us some great shots throughout the day.
We caught up with Eloise after the half term break, when her cold had gone away and she was feeling good as new!
When did you start modelling and what made you decide to do it?
I only just started modelling – my Mum and brothers thought it would be fun for me to try.
So were they right? Is it fun?
It is so much fun, I love it because I love fashion and you get to wear really nice clothes.
What is the most exciting photoshoot you have done?
Working in the sweetshop with you!
What was your favourite outfit that you wore in the Candy Shop photoshoot?
The Little Marc Jacobs silk dress because it was so soft and blue is my favourite colour. My mum bought it for me after so now I can wear it as much as I want!
Lucky girl! So what kind of music do you like to dance around to in your new Little Marc Jacobs dress?
Well I like Duffy, but JLS is my favourite band, especially to sing along to!
And what is your favourite thing to eat?
The cupcakes and candy you gave me to take home from the sweetshop
Hmmm me too! That was a lot of yummy candy we got! What was your favourite treat that you got to take home from the Hope & Greenwood?
The Lemon bon-bons…they were soooo good!
What do you want to be when you grow up? A professional candy eater?!
(giggles) Maybe, but I think I want to be a model because my Mum was one.
Well it looks like you are on the right track then! But all models  also have to be clever, so what is your favourite subject in school?
R.E. because I can explore the meaning of life!
—
- You can see the images of Eloise's Photoshoot HERE in our March Magazine –
* We've also just been told, Eloise is going to be modelling for Vogue Bambini this month, congratulations Eloise!