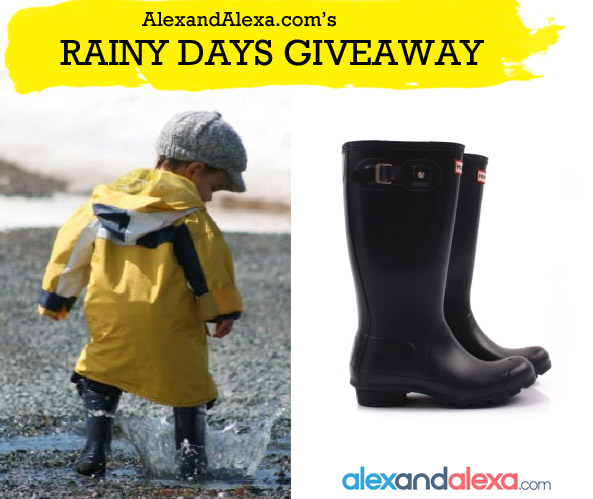 Nothing is more fun in the rain than splashing about in the puddles wearing your favourite wellies, and luckily, here in the U.K and many places abroad, the upcoming rainy weather that leads up to winter gives us all plenty of opportunities to do so.
We love puddle splashes so much at alexandalexa.com, that we created this Rainy Days Giveaway in hopes of finding the best puddle splash pictures you and your kids can create with a pair of wellies and a puddle from good ol' mother nature.
Each picture submitted will be entered to win a pair of Hunter Wellies with the winning picture becoming our profile picture on Facebook.
HOW TO ENTER
Send us/post the picture of your kid(s) doing their best puddle splash along with the location of the splash and the name and age of the splasher(s). Pictures can be submitted any of the following ways:
A) Email us the picture to [email protected]
b) Post the picture of your kid(s) best splash on our facebook wall, www.facebook.com/alexandalexa
c) Upload the picture to your twit pic account and include @alexandalexa and 'Rainy Days Giveaway' in the message, along with the information listed above!
HAPPY SPLASHING!
* Contest Closes Tuesday, November 2, 2010