Before the camera and the ease of airplanes the Victorians were fascinated with presenting nature, opening gigantic taxidermy museums stuffed with exotic animals, beautiful glass structures housing tropical plants and butterflies, pretty water colours depicting bursting bouquets or elephant tusks to hang one's dress coat on .
For SS11 not much has changed, although less brutal than the Victorians, fashion designers have enthusiastically used prints inspired by nature, wild flowers, leaves, country fields,  jungles and an assortment of exotic animals. Marimekko, the Finish company famous for their brightly coloured prints and simple styles in the sixties and seventies, is the inspiration for lots of the textiles for SS11, as is Liberty of London and references to artists such as Craigi Aitcheson's and Henri Rousseau's depiction of animal life. If print isn't for you or your child, then another inspiration is outdoor wear, smart leather hiking boots, straw and canvas satchels for that country walk, giant sunhats, or multi-purpose belts and waist bags so your little one can carry all of your essentials!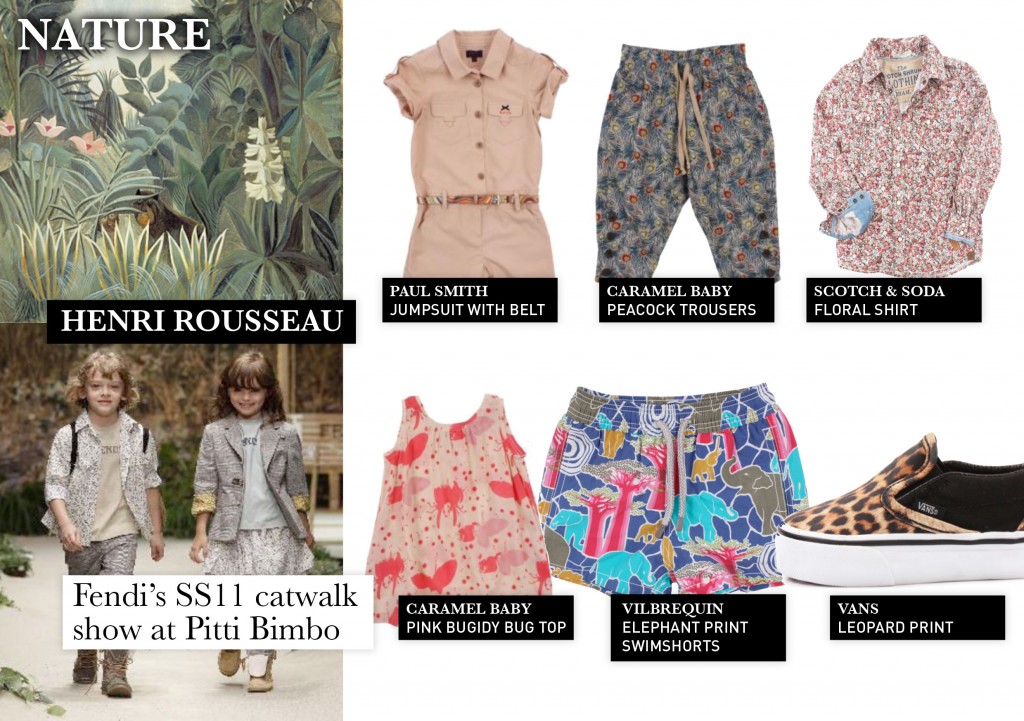 PAUL SMITH Jumpsuit with Belt *
CARAMEL BABY Peacock Trousers *
CARAMEL BABY Pink Bugidy Bug Top *
VILBREQUIN Elephant Print Swimshorts
VANS Leopart Print *
*- Get these items before anyone else by pre ordering via [email protected]!
Words by Junior Magazine Fashion Editor, Matthew Holroyd