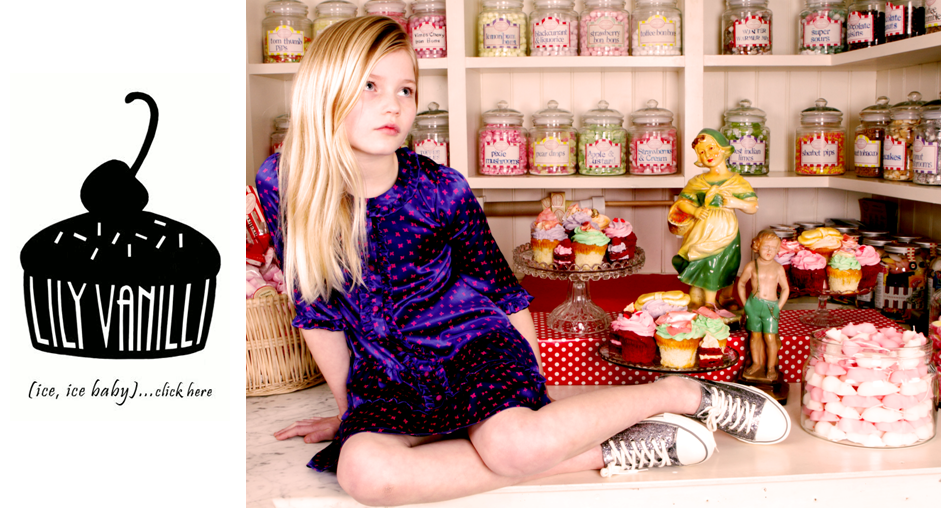 If you haven't heard of the cake sculptress Lily Vanilli, then we are assuming you have probably been on vacation in Antarctica for a very long time. 2010 proved to be a hugely successful and well publicised year for the 28 year old baker, launching her very own cook book 'A Zombie Ate My Cupcake' which exceeded her publisher's expectations by completely selling out, she baked for some of last year's most memorable events including the glitzy 'White Tie and Tiara Ball' organised by Elton John. She was also snapped up by the world's finest department store, Harrods, to sell her creations in their Food Hall.
2011 is set to be just as busy, with Vanilli launching her very own cake members' club and plenty of top secret projects on the horizon,  so AlexandAlexa.com were delighted that the busy baker could muster up some colourful cupcakes on our 'I Want Candy' shoot and spare a few moments for a word….
Thanks for making the cupcakes on our 'I want Candy' shoot; they were absolutely delicious I ended up eating three in a row, what was the inspiration behind them and what tends to be your inspiration?
On this shoot, I was inspired by Marie Antoinette and old school decadence (you can see the cupcakes on the counter above!), I'm generally inspired by things I see or read, it can be anything, like science, nature, fashion and film. I often start with either an image or a flavour – both are equally important.
You are now stocking at Harrods, for all the discerning shoppers out there, what can we get from the Lily Vanilli counters?
Up until now, we have been doing cupcakes & brownies but the new range is very focused on English classics, picnic staples and decadence. We have a beautiful Bakewell with fresh cherry and an orange pate sucre, iridescent, pink glittery scones, flapjacks and mini individual layer cakes, glitter cookies and a brownie pyramid topped with gold dusted chocolate.
You made the desserts for Elton Johns 'White Tie and Tiara Ball', how did this come about and what did you make?
The event organisers got in touch – the reason being that the brief was for quite experimental/unusual desserts. I ended up making nine different cake canapés;  including geometric shapes dipped in chocolate and topped with sweet almonds, bite size mini layer cakes topped with fresh cherries, gold plated carrot cakes and mini lavender sponges topped with lavender meringue and toasted almond.
I really enjoyed your recent book 'A Zombie ate my cupcake' can you tell me a little about that?
It's part graphic horror novel, part cook book. For kids as much as grown ups and it's illustrated like a comic book, by the very talented Paul Parker. It's an introduction to cake design using lots of different techniques and the subject matter is quite gruesome: things that look grotesque but taste delicious. Marzipan beetles, severed ear cupcakes, bleeding hearts made of cocoa and red cherry.
Kids love a bit of gore and guts; does your own childhood inspire your creations?
Yes! I've always loved horror and science – looking in the undergrowth at what's crawling around in there.
You have just launched a cake members' club, how did that come about and what happens down at the cake club?
It's a private members' cake club – with an emphasis on pairing quality cakes and ice creams with cocktails and drinks. Each event sees a new menu with desserts such as absinthe and mint chocolate chip ice cream, Courvoisier and quince ice cream, white Russian marshmallows and lots of cake. At the moment we are exploring different venues – sometimes a cocktail bar, sometimes a home or maybe a tent at a festival.
Cupcakes are hugely popular at the moment but with all fashions they sadly come to an end, what do you envisage for the future, what happens after cupcakes?
I think cupcakes as a trend are over – although I think they made enough of a mark to stick around after the trend has died down. I notice lots of my clients who used to order cupcakes ordering things like scones or tarts instead – even ice cream. I was always a bit uncomfortable with the 'cupcake' label, as I never intended to have a cupcake business – as a baker I love making all kinds of desserts and pastries and cakes. I'm glad the cupcake trend has eased up and the market is open to new things (or old ones).
You also made cake sculptures for an exhibition last autumn, which you did with other members of the experimental food society, can you tell me about the exhibition and who the experimental food society is?
The Experimental Food Society is a collection of people from up and down the country who are pushing boundaries within the food industry in new and creative ways. The exhibition was a showcase of their work.
What I really like about making food sculptures is that you can make a sculpture with the extra dimensions of smell and taste. I think that often gets lost when people model from sugar paste – and the image is made at the cost of the flavour and quality of the food. For instance at 'Cake Britain' – The edible art exhibition I curated last summer I made an edible garden. complete with sugar flowers, and edible roots and sugar scorpions in the undergrowth, the base was a chocolate and lavender cake (covered in cocoa 'soil') so it smelled and tasted really earthy and floral, like a real garden.
What projects are you working on at the moment?
Myself and my partner David Wright are working on a project with the theatre company Gideon Reeling called Salon du The – recreating an Edwardian high tea ceremony which will tour the country's stately homes. I am also developing the 180 Member's Cake Club and planning lots of fun stuff for the rest of the year.
-Visit Lily Vanilli's Website Here-
- See the Images from our 'I Want Candy' Photoshoot Here -
words and interview by Matthew Holroyd