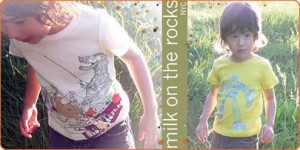 Milk On The Rocks serves up an eclectic mix of screen prints inspired by edgy adult high fashion and delivers it 
into wearable unisex clothing for babies and children.
The unique mix of screen prints, appliqués and embroideries on casual unisex clothes for babies and children
create a statement in a practical way.
The wide range of colours, original graphics, and international style scope gives this line an unique and funky look
that your tots are sure to love.
You can find Milk On The Rocks at alexandalexa.com
Milk On The Rocks: Cutey Kiss Baby Bodysuit, £13.95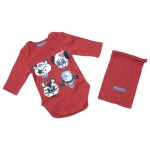 Milk On The Rocks: Cement Motorcycle Embroidered T-Shirt, £15.75