In Alexandalexa.com's most recent magazine shoot, Rachel Meddowes, Lifestyle Editor and Stylist, lent her hand as guest editor with her Top 5 picks from A+A
Having previously worked for twelve years at Harper's Bazaar and currently working as a freelance writer, including a regular slot on Daily Candy Kids and work in writing and styling, Rachel has more than enough experience in spotting the best looks.
Rachel also has a very successful Children's Bedroom Design Business, proving her creative flare expands across all mediums of design.
She has a passion for children's clothes and currently lives between Scotland and London with her ten month old baby, Bingham known as Bing, who is always dressed up to 'party standards'– cashmere, collars, layers and tights for Edinburgh, – Rompers, pantaloons, shirts, sleeves, shorts and cotton prints for London.
Rachel chose five of A & A's must have spring buys, take a look and let us know what you think of her selection!
1
D&G Junior: Red Denim Changing Bag With Mat, £495.00
"Finally a chic carry 'it all' that Mummy might need to borrow when she is off duty"
2
"You never realize until you have children how perfect playsuits are for eager crawlers. This piece is as gorgeous as it is practical"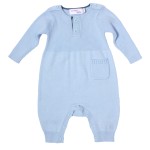 3
Cacharel: Cream Cardigan With Beige Patches, £70.00
"Too adorable to cope with, more colour ways next season please"
4
 No Added Sugar: Tiddly Winks Striped Dress, £49.00
"A super chic and comfy Bretton number. Coco Chanel would be proud"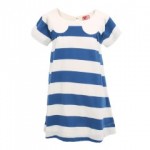 5
Roberto Cavalli: Pink Special Occasion Dress, £220.00
"Bring on the party! This is the perfect princess party dress"